There is this superstition about hanging a wool lamb behind the front door on New Year's Eve, so that the next year brings prosperity.
I thought this song would go well with this post because its lyrics have a certain air of  superstition:
Volta la carta by Fabrizio De André
Italian lyrics and English translation at the bottom
Last December we were able to get real wool for this year's lamb: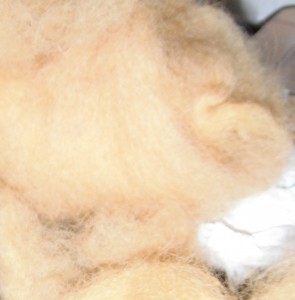 I've always been fascinated by magic, I used to have a friend who was a wiccan and I believe it was her who told me that it's the intentions we have when making something  that imbue the magic on an object. So with that in mind, whatever I could still remember and the very handy Google search I gathered my ingredients for this year's lamb: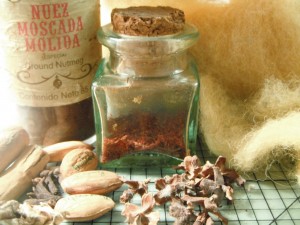 According to some websites I found:
Nutmeg brings prosperity and luck among other things,
I added a pinch of saffron for happiness and good luck;
clove for money and protection;
four almonds for Wisdom, money, fruitfulness, and prosperity, and wrote one of those words on each one.
Cinnamon for success, protection, luck and prosperity;
ginger root for prosperity and success and to strengthen the charm;
and perhaps something else I can't recall at this very moment.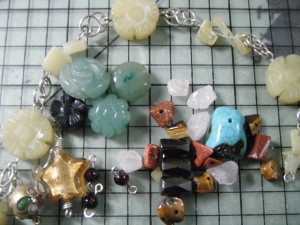 I also added some stones since I already had them:
(I washed them in running water before using them to remove previous "bad" energy)
For money, wealth and prosperity: jade, tiger's eye. Blue aventurine to stimulate creativity,
Garnet for protection and strength, turquoise for luck and protection, pink quartz for happiness for the house dwellers, and much to my dismay I couldn't find a bit of amber that I still had, or have somewhere.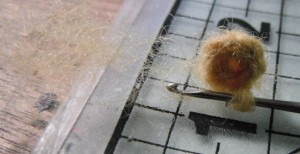 And at first I really thought I'd get away with crocheting the entire lamb, but it used way too much wool and it took more time than I had. So I decided to roll it all up, like a spring-roll or a taco: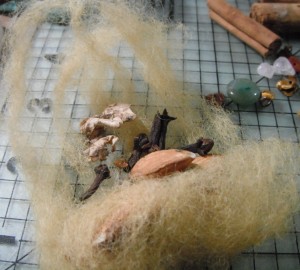 And ended up with a nice bundle or cocoon: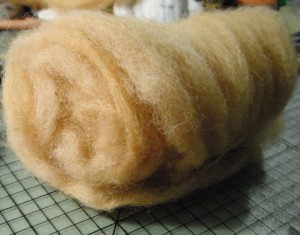 And I still believed at this point that I was going to needle felt it into shape
(which I don't know how to do,  nor have I the tools for it)
A pretty lamb shape, mind you!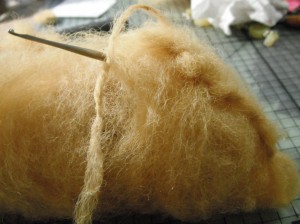 So I twirled some wool and sew it up shut instead.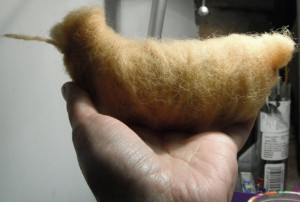 And it seemed to have worked! That almost looked like a lamb :D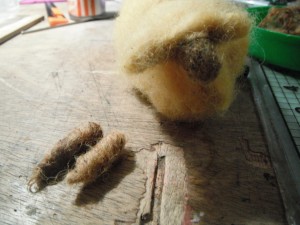 I sew the snout on one end, pulled out some ears and used some black tea to dye the remaining wool for the legs, and I stuck the snout in it too, so it would match them.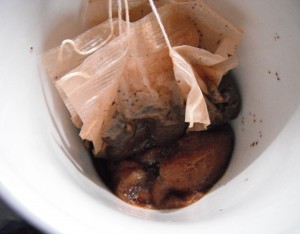 and it turned out to my delight that black tea was also a prosperity drawing herb.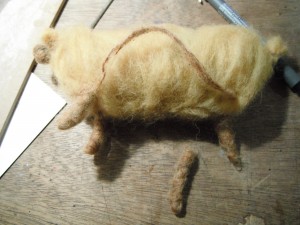 I sew up all his legs to the body and voilá! We had a lamb.
A fat lamb!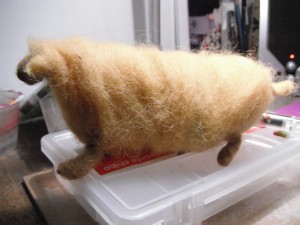 I made him a vest to hold him all together,  a green eco-friendly felt vest,  green is for money: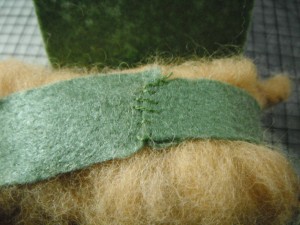 First I secured him around and then across.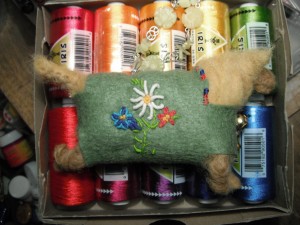 I embroidered some flowers like the ones seen on alpine cow bells. Now that I think about it I could've embroidered some flowers that I wanted but couldn't find. Maybe I will next year!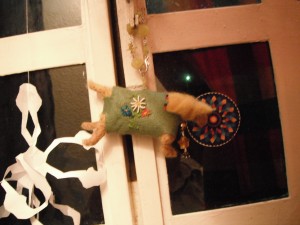 And he made it well ahead of time to his place behind the front door :)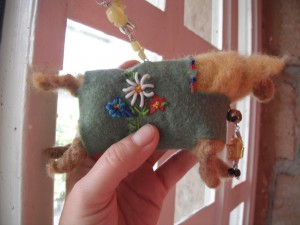 Here he is on the next day, filled with all our hopes and wishes :)
And here are the Italian lyrics to  "Volta la carta"
And right under it there's an English translation I've just found online
C'e' una donna che semina il grano
volta la carta si vede il villano
il villano che zappa la terra
volta la carta viene la guerra
per la guerra non c'e' piu' soldati
a piedi scalzi son tutti scappati
Angiolina cammina cammina
sulle sue scarpette blu
carabiniere l'ha innamorata
volta la carta e lui non c'e' piu'
carabiniere l'ha innamorata
volta la carta e lui non c'e' piu'
C'è un bambino che sale un cancello
ruba ciliege e piume d'uccello
tira sassate non ha dolori
volta la carta c'e' il fante di cuori
Il fante di cuori
che e' un fuoco di paglia
volta la carta il gallo ti sveglia
Angiolina alle sei di mattina
s'intreccia i capelli
con foglie d'ortica
ha una collana di ossi di pesca
la gira tre volte in mezzo alle dita
ha una collana di ossi di pesca
la conta tre volte intorno alle dita
Mia madre ha un mulino
e un figlio infedele
gli inzucchera il naso
di torta di mele
Mia madre e il mulino
son nati ridendo
volta la carta c'e' un pilota biondo
Pilota biondo camicie di seta
cappello di volpe sorriso d'atleta
Angiolina seduta in cucina che piange
che mangia insalata di more
Ragazzo straniero
ha un disco d'orchestra
che gira veloce che parla d'amore
Ragazzo straniero
ha un disco d'orchestra
che gira che gira che parla d'amore
Madamadore' ha perso sei figlie
tra i bar del porto
e le sue meraviglie
Madamadore' se puzza di gatto
volta la carta e paga il riscatto
paga il riscatto
con le borse degli occhi
piene di foto di sogni interrotti
Angiolina ritaglia giornali
si veste da sposa canta vittoria
chiama i ricordi col loro nome
volta la carta
e finisce in gloria
chiama i ricordi col loro nome
volta la carta
e finisce in gloria.
English translation borrowed from: SIMON J. EVNINE's webite:
Turn the Card Over
In the fields sowing grain there's a girl,
turn the card over and you'll see the churl
the churl hoes the ground till he's sore
turn the card over here comes the war
for the war there are no more recruits
they've all vanished with holes in their boots
Angiolina is starting to preen herself
in those little blue shoes she has on
a policeman has fallen in love with her
turn the card over and now he is gone
a policeman has fallen in love with her
turn the card over and now he is gone
There's a boy climbing over a gate
looking for cherries and feathers to take
he throws stones at things, he has no cares
turn the card over the Jack of Hearts stares
the Jack of Hearts who is all show
turn the card over and hear the cock crow
Angiolina is weaving between her braids
leaves of nettle as six o'clock chimes
she's got a necklace made out of some peach stones (cores or seeds)
she winds it around her fingers three times
she's got a necklace made out of some peach stones
she counts it through her fingers three times
My mother has a mill and a wandering son
she gets his nose sugared up with a bun
my mother and her mill were born full of laughter
turn the card over there's a blond race car driver
a blond race car driver, silk shirts
a fox fur hat athlete's smirk
Angiolina is in the cantina she's crying
and eating a blackberry salad
a foreign boy's got an orchestral LP
that spins quickly and plays a love ballad
a foreign boy's got an orchesteral LP
that spins quickly and plays a love ballad
Madamadorè has lost her six daughters
they all now work in bars down by the water
Madamadorè has the stink of a cat
turn the card over she pays for them back
she pays for them back with the bags under her eyes
full of photos of dreams unrealized
Angiolina is cutting up papers,
she's dressed as a bride, she sings a brave story (victory!)
she calls by their true name her memories
turn the card over she's covered in glory
she calls by their true name her memories
turn the card over she's covered in glory